LifeSlice
Get LifeSlice 2.0 updates
I'm working on a new version of LifeSlice that's a simple OSX application. Sign up here to try the beta version and get updates.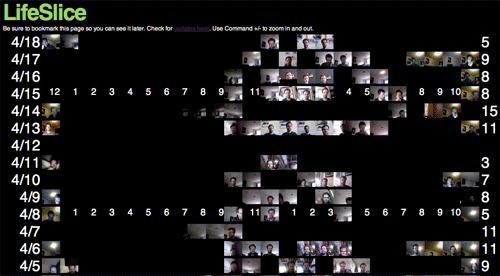 LifeSlice is a simple collection of scripts for Mac that run every hour to capture a webcam shot, screenshot, and other data. Don't worry–everything is just stored locally. Reports are generated to see your online habits, like the one you see above..
Submit issues on the github page, or leave comments on the blog post.
You can contact me with any questions or comments.
Thanks for trying my little project!
Talk given at Bay Area Quantified Self April 18, 2012
Slides