Java and Mini-Games : NetGuide Interview, February 1997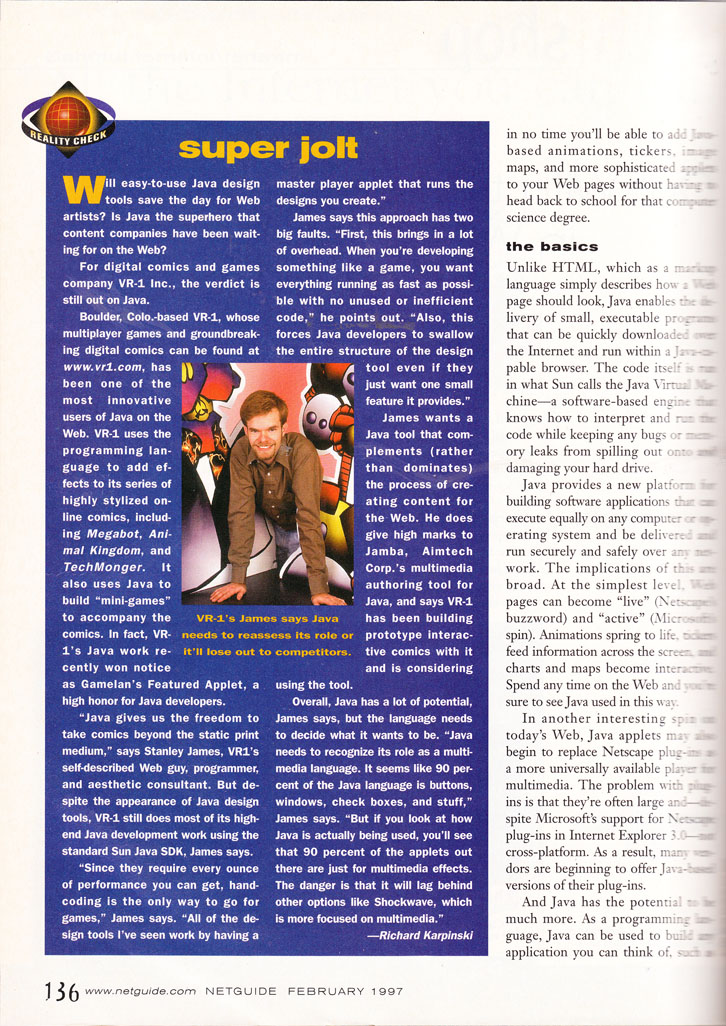 Will easy-to-use Java design tools save the day for Web artists? Is Java the superhero that content companies have been waiting for on the Web?
For digital comics and games company VR-1 Inc., the verdict is still out on Java. Boulder, Colo.-based VR-1, whose multiplayer games and groundbreaklng digital comics can be found at www.vr1.com, has been one of the most innovative users of Java on the Web. VR-1 uses the programming language to add effects to its series of highly stylized online comics, including Megabot, Animal Kingdom, and TechMonger. It also uses Java to build "mini-games" to accompany the comics. In fact, VR-1′s Java work recently won notice as Gamelan's Featured Applet, a high honor for Java developers.
"Java gives us the freedom to take comics beyond the static print medium," says Stanley James, VR-1′s self-described Web guy, programmer, and aesthetic consultant. But despite the appearance of Java design tools, VR-1 still does most of its highend Java development work using the standard Sun Java SDK, James says.
"Since they require every ounce of performance you can get, handcoding is the only way to go for games," James says. "All of the design tools I've seen work by having a master player applet that runs the designs you create."
James says this approach has two big faults. "First, this brings in a lot of overhead. When you're developing something like a game, you want everything running as fast as possible with no unused or inefficient code," he points out." Also, this forces Java developers to swallow the entire structure of the design tool even if they just want one small feature it provides."
James wants a Java tool that complements (rather than dominates) the process of creating content for the Web. He does give high marks to Jamba, Aimtech Corp.'s multimedia authoring tool for Java, and says VR-1 has been building prototype interactive comics with it and is considering using the tool.
Overall, Java has a lot of potential, James says, but the language needs to decide what it wants to be. "Java needs to recognize its role as a multimedia language. It seems like 90 percent of the Java language is buttons, windows, check boxes, and stuff," James says. "But if you look at how Java is actually being used, you'll see that 90 percent of the applets out there are just for multimedia effects. The danger is that it will lag behind other options like Shockwave, which is more focused on multimedia."
-Richard Karpinski