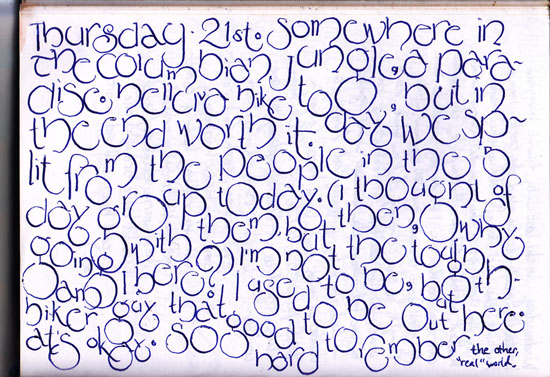 While my notebooks fill up with "things I should really blog about" entries, I was encouraged recently to share some of my favorite handwriting styles. That, and I was excited to find the My Handwriting Flickr group for inspiration. Most of you know that I'm a bit obsessed with letters, and in my mostly-daily journal I try to create new styles whenever I can.
This is a journal entry from 2008 after visiting the "Lost City" of Ciudad Perdida in Colombia. Inspiration was all (hundreds of them) stone circles that marked where homes once stood a thousand years ago–so goal was to exagerate all the circles in the text, and in all random-seeming sizes like in the city.
More about Ciudad Perdida at Wikipedia
…and greetings to all from Berlin!