Adobe used to make great products. They would innovate like crazy even with no real competition. Photoshop and InDesign are great products. But it seems that alas they too have jumped the shark.
The latest example came this morning when I tried to use my newly installed Acrobat 8 from Adobe's creative suite: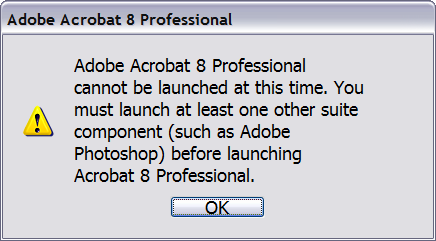 WTF? I have to have Photoshop open in the background to edit a PDF? That's not exactly a lightweight program.
Okay okay, but I need to do this. So I open Photoshop and launch Acrobat again. And what happens…?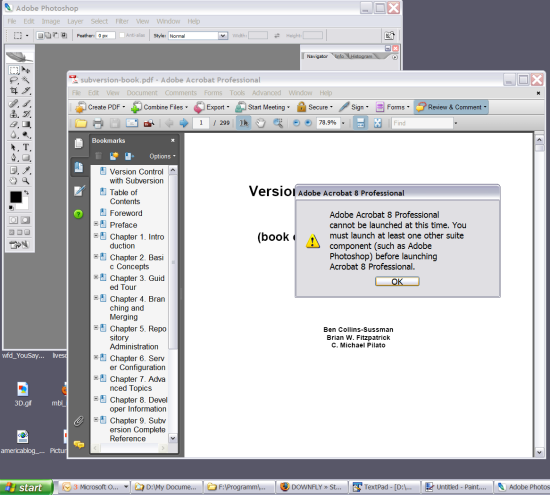 See Photoshop open in the background? And it gives me the same message telling me to open Photoshop! Arrgh!
Patience at an end, I decide to go back to Acrobat 6 which at least works. I fire up the installer and get this: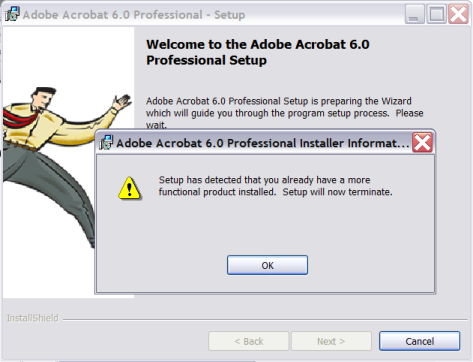 I give up.
Long ago I replaced Acrobat Reader with the faster-loading Foxit Reader, and now it looks like I'll be switching to the Foxit PDF Editor too.
Adobe, what happened to you?